SPONSORS
The SFTI Trustees would like to thank the firms below for their participation as a Sponsor at the 2018 Southern Federal Tax Institute.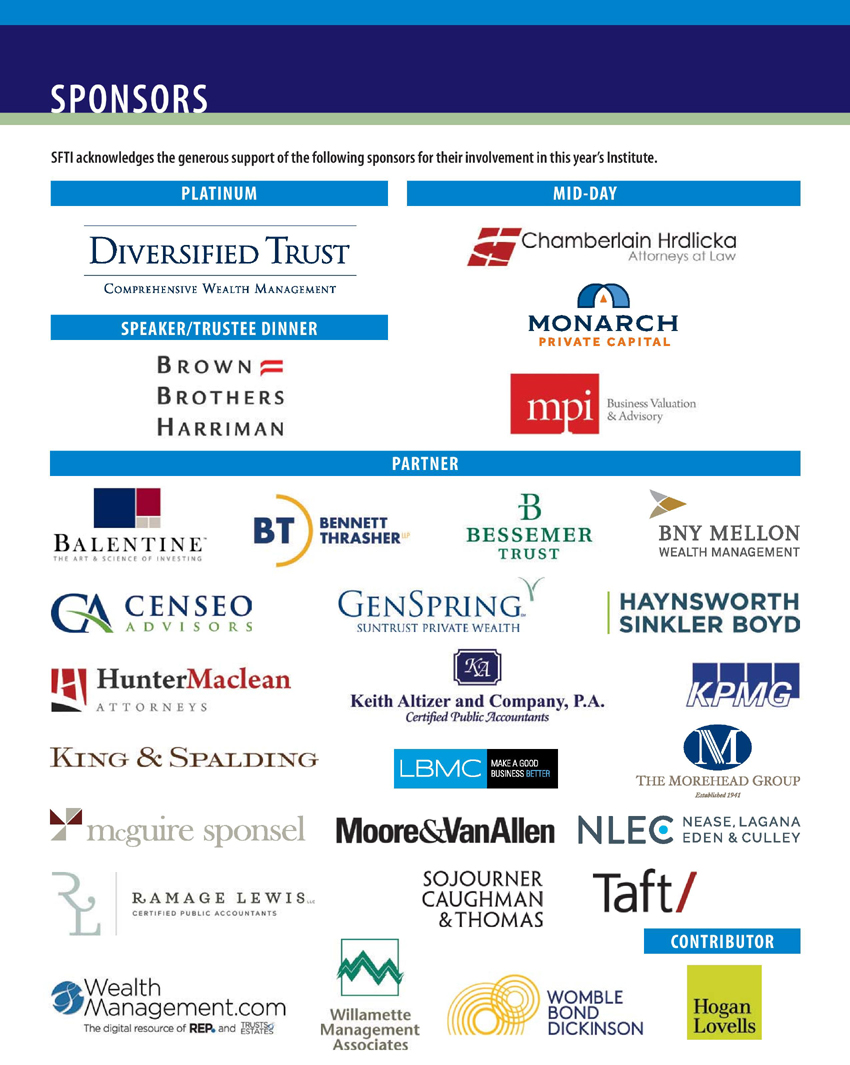 *Sponsors as of June 12
---
Platinum Level Sponsorship
Diversified Trust
Established in 1994, Diversified Trust is among the largest independently owned, comprehensive wealth management companies in the country with over $6.5 billion of assets under management. Our approach is designed to partner with our clients for the achievement of their goals while mitigating the multitude of risks. Clients include individuals, multi-generational families, family offices, foundations, endowments, and retirement plans. Our dedicated focus on coordinating client solutions is based upon the following tenets of service: trust, integrity, privacy, continuity, experience, and accessibility. Our goal is simple -- helping our clients focus on what's important to them. Our offices are located in Atlanta, Greensboro, Memphis, and Nashville. For more information on partnering with us, visit diversifiedtrust.com.
Monday Mid-Day Program Sponsored by Chamberlain, Hrdlicka, White, Williams & Aughtry
Chamberlain Hrdlicka
Chamberlain Hrdlicka is a diversified business law firm with offices in Houston, Atlanta, Philadelphia and San Antonio. The firm represents both public and private companies as well as individuals and family-owned businesses across the nation. In addition to tax planning and tax controversy, the firm offers corporate, securities and finance, employment law and employee benefits, energy law, estate planning and administration, intellectual property, international and immigration law, commercial and business litigation, real estate and construction law.
David D. Aughtry, Esq.
Chamberlain, Hrdlicka, White, Williams & Aughtry
191 Peachtree Street, N.E., 46th Floor
Atlanta, GA 30303-1747
Phone: 404-658-5486
Fax: 404-659-1852
david.aughtry@chamberlainlaw.com
Tuesday Mid-Day Program Sponsored by Captive Alternatives
Captive Alternatives
Captive Alternatives is an insurance consultancy that helps business owners convert their insurance premiums into financial assets that can be grown and tapped for their benefit. CapAlt's pioneering business model, the Private Insurance Company, enables businesses and organizations to self-insure selected risks, transfer high exposures to third parties and financially reward themselves for effective risk management. As a result of their Private Insurance Company ownership, CapAlt clients build wealth to help protect and assure their future. CapAlt manages the operation of more than 130 captives from their offices in Atlanta and Puerto Rico.
Mark Sims
VP of Business Development
1155 Mount Vernon Highway NE, Suite 800
Atlanta, GA 30338
Phone: 404-823-6200; Direct: 812-327-3342
Website: www.captivealternatives.com
Wednesday Mid-Day Program Sponsored by Monarch Private Capital
Monarch Private Capital
Founded in 2005 as State Tax Credit Exchange (STCE), Monarch Private Capital invests in projects which qualify for federal and state tax credits and passes the benefits of those credits on to taxpayers through investment programs. The Monarch Private Capital team is committed to both developer and client success. Valued as a reliable and dedicated resource, Monarch Private Capital delivers as promised. Our team is happy to assist taxpayers with any questions and developers with unique capital structures. Monarch Private Capital is headquartered in Atlanta, and has offices in Charlotte, St. Louis, Nashville and Sarasota.
Please visit MonarchPrivate.com to learn more.
Thursday Mid-Day Program sponsored by MPI
MPI
MPI, a prestigious national consulting firm founded in 1939, specializes in business valuation, forensic accounting, litigation support and corporate advisory work. MPI provides fairness opinions, sell-side and buy-side advisory services through its investment banking affiliate MPI Securities, Inc. MPI conducts every project as if it is going to face the highest level of scrutiny, and its senior professionals have extensive experience presenting and defending work product in front of financial statement auditors, management teams, corporate boards and fiduciaries, the IRS, other government agencies, and in various courts.
Speaker/Trustee Dinner Sponsorship
Brown Brothers Harriman Trust Companies, N.A.
At Brown Brothers Harriman our purpose is straightforward: to protect and grow our clients' capital. We start with a deeply rooted investment culture and combine that with unparalleled localized delivery of fiduciary services through the firm's two domestic national trust companies and the firm's Cayman trust company. The firm's tradition of stability and longevity created by our general partnership structure underpins every aspect of our interaction with our clients.
For more information, visit www.bbh.com.
Partner Level Sponsorship
Balentine
Balentine is an independent wealth management firm that provides investment management and financial planning services to entrepreneurs, high-net-worth individuals, and institutions. Balentine is dedicated to providing peace of mind and performance to clients through its goals-based approach. Since its founding in the depths of the financial crisis nine years ago, Balentine's staff has doubled to 35 professionals and assets under advisement have grown to more than $3 billion. Balentine is headquartered in Atlanta and has a second office in Raleigh, North Carolina.
Bradley G. Martin
Partner, Senior Relationship Manager
Balentine
O:(404) 537-4806
bmartin@balentine.com
---
Bennett Thrasher
Currently ranked among the largest CPA firms in the U.S., Bennett Thrasher is a premier provider of professional tax, assurance, consulting and wealth management services to businesses and high net worth individuals. Since 1980, our integrity has earned our clients' trust, and our culture of supporting professional and personal growth has created a long-term, dedicated team.
For more information, please visit www.btcpa.net.
---
Bernstein
Bernstein was founded 50 years ago to manage money for families and individuals. We now serve smaller institutions as well. For many clients, we deliver a uniquely integrated approach to managing all or most of their liquid assets. For others, we deliver services that are targeted to fill a specific need. But all our clients receive the benefit of our firm's global scope, deep research resources, and planning expertise, and as legal fiduciaries, we place all clients' interests first. For more information, please visit: www.bernstein.com.
---
Bessemer Trust Company, N.A.
Privately owned and independent, Bessemer Trust is a multifamily office that has served individuals and families of substantial wealth for more than 100 years. Through comprehensive investment management, wealth planning, and family office services, we help clients achieve peace of mind for generations. Bessemer oversees more than $100 billion in assets for 2,400 clients, and we take pride in our continued private ownership, singular focus on wealth management, alignment of interests among clients, owners & employees, and culture of service.
C. Oliver Iselin
Wealth Advisor
iselin@bessemer.com
3455 Peachtree Rd., NE
Suite 850
Atlanta, GA  30326
404-965-9300
www.bessemer.com
---
BNY Mellon
BNY Mellon is the world's largest multi-boutique investment manager, encompassing BNY Mellon's globally diversified investment boutiques, wealth management and global distribution companies. We combine the scale of a full-service investment manager with the focused expertise of autonomous investment boutiques, each with their own style, strategy and management team.

For more information please visit https://www.bnymellon.com/.
---
Censeo Advisors
Censeo Advisors is a professional services firm delivering proven business valuation, financial advisory, real estate and tangible asset appraisal, and forensic analysis services. We assist clients in many market sectors, ranging in size from start-up businesses to Fortune 500 corporations, and located throughout the country. Our valuations are often used in connection with transaction consulting, tax planning and compliance, financial reporting, and litigation support matters.
---
GenSpring | SunTrust Private Wealth
For those who believe the complexity of wealth should be managed to bring families closer together, GenSpring exists to be a collaborative community of individuals, families and committed professionals focused on growing wealth in support of the family's enduring values. Our purpose is to objectively manage the issues that keep members awake at night so they can enjoy the moments in life that matter. GenSpring exclusively serves ultra-high net worth clients of SunTrust Private Wealth Management. Know more, GenSpring.com.
---
Haynsworth Sinkler Boyd, P.A.
Haynsworth Sinkler Boyd has more than 115 attorneys providing business, litigation and financial legal services to national and international clients. The firm's tax group regularly advises clients with respect to federal, state and local tax matters. Our attorneys also assist shareholders, directors, officers and members of LLCs in implementing creative, tax-efficient strategies for expansion, benefit packages, ownership succession, reorganizations, mergers and acquisitions. The firm's estate planning group focuses on the preservation and orderly disposition of family wealth through the use of wills, testamentary substitutes and various tax-advantaged vehicles. They also represent individuals, banks and trust companies in probate litigation. Firm offices are located in Charleston, Columbia, Florence, Greenville, and Myrtle Beach, South Carolina. For more information, visit www.hsblawfirm.com.
Frank W. Cureton
Shareholder, Tax Practice Group Leader
1201 Main Street, 22nd Floor
Columbia, SC 29201
803-540-7824
fcureton@hsblawfirm.com
---
HunterMaclean
HunterMaclean offers one comprehensive source to handle the full range of business legal needs. From offices in Savannah and Brunswick, the firm provides legal services throughout the southeast in more than thirty practice areas to clients that include Fortune 500 companies, banks, hospitals, professional service organizations, nonprofit corporations, privately-held businesses, and start-up ventures. Since 1897, HunterMaclean has worked to build long-term, strategic relationships to help clients navigate the constantly evolving business landscape. For more information, please visit: www.huntermaclean.com.
---
Keith Altizer and Company, P.A.
Keith Altizer and Company, P.A. has been serving Central Florida and beyond for over 45 years. The firm is a full service public accounting firm providing high quality, proactive and personable services in the areas of tax consulting and compliance, business valuation, accounting and auditing as well as litigation support for high net worth individuals, partnerships, corporations, estates, trusts, private foundations and other non-profit entities.
For more information, visit www.ka-co.com
Tiffany Altizer, CPA
Phone: 407-539-1188
Email: taltizer@ka-co.com
---
King & Spalding
Celebrating more than 130 years of service, King & Spalding is an international law firm that represents a broad array of clients, including half of the Fortune Global 100, with over 1,000 lawyers in 20 offices in the United States, Europe, the Middle East and Asia. The firm has handled matters in over 160 countries on six continents and is consistently recognized for the results it obtains, uncompromising commitment to quality, and dedication to understanding the business and culture of its clients.
For additional information, visit www.kslaw.com.
---
KPMG LLP
KPMG LLP, the audit, tax and advisory firm (www.kpmg.com/us), is the U.S. member firm of KPMG International Cooperative ("KPMG International"). KPMG International's member firms have 155,000 professionals in 155 countries. Our high performing people mobilize around our clients, using our expertise and insight to cut through complexity and deliver informed perspectives and clear solutions that our clients and stakeholders value. Our client focus, commitment to excellence, global mindset and consistent delivery build trusted relationships that are at the core of our business and reputation.
For additional information, visit www.kpmg.com/us.
---
LBMC, PC
LBMC, PC is among the largest CPA firms in the Southeast with offices in Nashville, Knoxville and Chattanooga. The Firm serves a wide range of industries and companies varying from start-up to large publicly traded companies, as well as high-wealth family groups. LBMC has a robust tax division with expertise and resources in tax strategy and compliance, state and local tax services, wealth management, gifting and estate strategies – as well as other traditional accounting, human resources, technology and operational services.

For more information, visit www.lbmc.com.
Jeff Drummonds, CPA
Partner of Tax Services
Phone: 615.309.2224 or via email jdrummonds@lbmc.com
---
McGuire Sponsel
McGuire Sponsel is a national consulting firm built on delivering value to CPA firms and their clients through Cost Segregation Services, R&D Tax Credit Studies, IC-DISC Consulting, Economic Incentive Negotiations and Finance Advisory Services. McGuire Sponsel serves over 500 companies through a network of leading local and regional CPA firms in 45 states. Our disciplined approach has allowed us to become a trusted resource to CPAs across the country, with a strong track record with the IRS.

For more information, visit www.mcguiresponsel.com
---
Moore & Van Allen PLLC
With 21 primary practice areas, a long history of civic service, and noted national, regional and local clients, MVA ranks among the Southeast's preeminent and fastest growing full-service law firms. MVA's Wealth Transfer group, one of the largest and most experienced private wealth practices on the East Coast, provides sophisticated, proactive and personable estate, tax, charitable and business planning for its clients–high net-worth individuals and families, senior executives of public companies and closely-held businesses.
Chris Jones
Member - Estate & Wealth Planning/Estate Administration
Moore & Van Allen
Charlotte, NC 28202
704-331-3507
chrisjones@mvalaw.com
---
The Morehead Group
Since 1941, professionals with The Morehead Group have provided strategic life insurance solutions to affluent individuals, families and closely-held businesses. The firm collaborates with the client's team of planning professionals to design, implement and administer comprehensive life insurance plans. The firm's proprietary processes provide comprehensive plans, collaborative focus and confidence to our clients. The Morehead Group is a member firm of Partners Financial, a national organization of select life insurance professionals.

Kenneth R. Samuelson
The Morehead Group
521 East Morehead Street, Suite 150
Charlotte, NC 28202
Phone: 704-334-2700 ext 302
ksamuelson@moreheadgroup.com
www.moreheadgroup.com
---
Nease, Lagana Eden & Culley, Inc.
We are a professional life insurance advisory firm built on one premise: that families of substantial wealth require access to insight, expertise, products and services unavailable to the general public. While this has long been recognized in other financial industries, few people realize it is also available in the life insurance industry. This focus allows us to provide institutionally priced products, customized solutions, reporting, and services to affluent families in the family office and UHNW market place.
Peter W. Fleming III
Vice President
2100 RiverEdge Parkway
Suite 200
Atlanta, GA 30328
Direct: 770-763-0687
Fax: 770-956-8516
Mobile: 678-427-8120
Email:
pfleming@nlec.com
http://www.nlec.com
---
Ramage Lewis LLC
Ramage Lewis LLC provides specialized estate and financial (tax) planning and tax compliance services for high net worth individuals and executives, their families, as well as their related entities, including family partnerships, trusts, estates and private foundations. Our firm size allows us to provide a niche service to a select client base, which seeks proactive, individualized attention. We are here to assist our clients navigate the complexities of financial planning and related tax issues. Additionally, we often serve as the hub for the planning process, working with the attorney, investment counsel, and other advisors to ensure all aspects of financial planning, estate planning, and tax planning and compliance are coordinated.
---
Sojourner Caughman & Thomas
Sojourner Caughman & Thomas is a Columbia, South Carolina law firm focused exclusively on trust and estate matters. With a highly-respected team of seven attorneys, we bring credentialed expertise and the value of extensive client experiences to every family wealth transfer situation. We provide thoughtful and well-informed recommendations that foster long-term client relationships in an environment that is professional and discreet.

David C. Sojourner, Jr.
Certified Specialist, Estate Planning & Probate Law
Certified Specialist, Taxation Law
Fellow, American College of Trust and Estate Counsel
Sojourner Caughman & Thomas, LLC
Physical Address: 1301 Gervais Street, Suite 1920, Columbia, SC 29201
Mailing Address: Post Office Box 12127, Columbia, SC 29211
Main: 803.978.5500
Direct: 803.212.4955
Fax: 803.978.5978
Email: dsojourner@sctlawfirm.com
---
Taft Stettinius & Hollister LLP
With more than 400 attorneys, Taft has offices in Chicago, Illinois; Cincinnati, Cleveland, Columbus and Dayton, Ohio; Indianapolis, Indiana; Covington, Kentucky; and Phoenix, Arizona. The firm practices across a wide range of industries, in virtually every area of law, including Business and Finance; Litigation; Labor and Employment; Intellectual Property; Business Restructuring, Bankruptcy and Creditor Rights; Environmental; Health and Life Sciences; Private Client Services; Real Estate; and Tax.

Contact: Michael Laing at laing@taftlaw.com or (513) 357-9385.
---
WealthManagement.com
WealthManagement.com is the new digital resource of REP. and Trusts & Estates that's specifically designed to help financial advisors and estate planning professionals stay knowledgeable about the latest investment ideas, industry data, legal and tax issues, and market trends needed to build and maintain strong client relationships. It provides valuable tools that help them better manage the daily activities of their practice, connect with essential members of the community, and be more effective in growing their business.

Susan Lipp
Editor in Chief, Trusts & Estates
Penton Wealth Management
1166 Avenue of the Americas
10th Floor
New York, NY 10036
Tel. 212.204.4229
susan.lipp@penton.com
---
Willamette Management Associates
Founded in 1969, Willamette Management Associates is the recognized thought leader in business valuation, intangible asset valuation, forensic financial analysis, and financial opinion services. Our clients range from family-owned companies to Fortune 500 corporations. We provide professional services related to transaction pricing and structuring, tax planning and compliance, and litigation support and dispute resolution. With offices located in Chicago, Atlanta, and Portland, we serve clients nationwide and around the world. For more information, visit our web site at www.willamette.com.
---
Wilmington Trust
Wilmington Trust is a premiere provider of wealth management services. With more than 100 years of fiduciary expertise at the core of everything we do, we manage relationships with individuals, families, business owners, and corporations with a long-term view. Our industry experts are committed to providing high-quality service, and customized, goals-based solutions—all within an advanced framework to mitigate and manage risk. For more information about the Wilmington Trust difference, visit www.wilmingtontrust.com.
---
Womble Bond Dickinson LLP
Womble Bond Dickinson LLP is a full-service business law firm perennially listed among the leading U.S. firms by American Lawyer magazine. Extraordinary client service is a hallmark of Womble Bond Dickinson We provide value to our clients by combining professional skill, technology, and a thorough understanding of our clients' needs to deliver high quality, cost effective and responsive services. Founded in 1876, the firm serves clients nationally and globally with more than 1,000 attorneys in 26 offices throughout the Southeast and Mid-Atlantic regions, and in Silicon Valley. For more information, visit www.womblebonddickinson.com/us.
Maria E. Burke
Marketing Manager
Womble Bond Dickinson LLP
One West Fourth Street
Winston-Salem, NC 27101
336.747.6607
mburke@wbd-us.com
LinkedIn | www.womblebonddickinson.com/us
Contributor Sponsorship
Hogan Lovells US LLP
Hogan Lovells is a global legal practice that helps corporations, financial institutions, and governmental entities across the spectrum of their critical business and legal issues globally and locally. We have over 2,500 lawyers operating out of more than 40 offices in Africa, Asia, Europe, Latin America, the Middle East, and the United States. Our style is open, service focused, and friendly. We believe that our commitment to client service, commerciality, and teamwork provides benefits to our clients and enhances effective business relationships.
For additional information visit: http://www.hoganlovells.com/